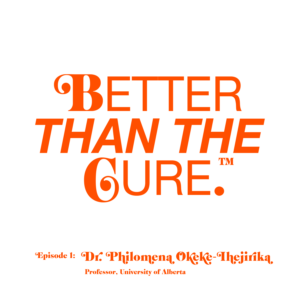 In the very first podcast episode of "Better than the Cure: Preventing Intimate Partner Violence," the host, Yawa Idi, welcomes listeners to the first instalment of an informative and necessary series. The episode focuses on shedding light on intimate partner violence within African, Black, and Caribbean communities in Alberta, Canada. Yawa welcomes Dr. Philomina Okeke-Iherjirika, a respected professor at the University of Alberta, to the conversation. They explore the complex landscape of gender relations, influenced by cultural shifts, migration and societal dynamics, particularly in the context of immigrant communities settling in Canada. A key theme is prevention, with Dr. Okeke-Ihejirika emphasizing that intimate partner violence is often rooted in imbalanced gender relations. The discussion emphasizes the need to address these roots through prevention efforts, rather than relying solely on interventions. Listeners are invited to explore this engaging dialogue, gaining insights into the intricate interplay of gender, culture and prevention strategies within African, Black, and Caribbean communities in Alberta.
You can now watch the first episode here.
We will update this post with information on how to stream the episode on a hosting platform for podcasts soon!
For more information on the project, please visit the Enhancing Gender Equity website.